Anywhere But Here, a New Collection of Short Stories (coming soon)
I'm pleased to say my first collection of stories, titled Anywhere But Here, will be available sometime in 2018. With other creative projects and personal challenges earlier this year, I had pushed it off from an earlier release — but I will be sharing the book cover, audio excerpts, and other details as we get closer to launch day!
Anywhere But Here features the lives of young girls living in Redmonton, Missouri, who all share the same urgency to flee from their small town in order to leave their problems behind. Meet a variety of twenty-somethings as they enter their adult lives already riddled with complications — a daughter struggles to take care of a father with PTSD, a young wife travels three hundred miles to find an abortion clinic that will help her, an abused girl searches for her missing sister after their escape plan goes awry.
I wanted to share some of the early concept artwork, when I was exploring this sense of geographic isolation and loneliness living in a small town, and the desire to escape to the world outside: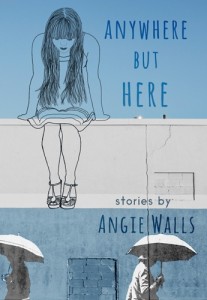 (Note: Early concept art only. I will share the final book cover soon!)
I loved this idea of a young girl sitting on top of the building, watching passersby below, yet feeling out of place and out of rhythm with the world that exists in her hometown.